Windermere's Economist, Matthew Gardner gave a presentation on the 2017 forecast for our area and I wanted to share what I learned about resale and new construction forecast and how that will effect our market.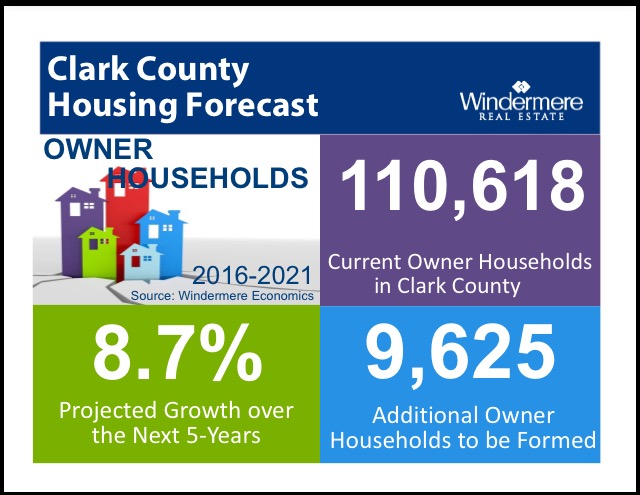 As you can see from the slide above, Matthew Gardner is expecting almost 10,000 new households being formed in the next 5 years, which is 8.7% growth. This accounts for the millennials growing up and becoming independent, but does not account for people moving into the area. The question is, where will these new households and new people moving into the area live?
Many people's response would go to new construction. And if you spend any time driving around the county, chances are you have seen more than one new neighborhood coming soon. But will that alone provide enough homes for the new households? Looking at the graph above you will see that the answer is no. Only 2,339 permits for new construction were pulled for 2016. This is making up some of the difference, but high construction costs as well as limited contractors will continue to hamper new construction. This will then put more pressure on resale homes.
Just like we saw in 2016, we will continue to have a lack of inventory in 2017 and this will drive up the price of resale homes.
Bottom line: it is and will continue to be a seller's market in 2017. If you are considering selling 2017 I would love to talk to you about how I can help you make the most return on investment and make the process as seamless as possible.
Christina
Posted on February 1, 2017 at 6:38 pm
Christina Waterhouse
Posted in
Uncategorized